Rail-Ways Freight Services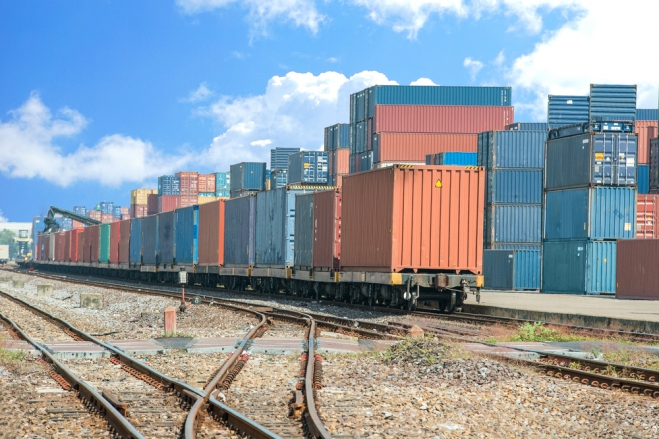 PRD Logistics Railway Transport Service On the tracks of customer delight is another milestone of PRD Logistics – Railway Transport Solutions. A cost-effective point-to-point bulk goods transportation service on the basis of Full Truck, Half truck or Container Load; PRD Logistics has a special tie-up with the Indian Railways for safe and effective goods transit. PRD's intrinsic network spans more than 99% of districts in India with operations across 13 train routes. Customer-oriented approach being our forte, PRD Logistics implements metacognition in its daily activities. Illustrating PRD commitment towards better customer service is the fact that PRD is credited with the launch of India's first private cargo train `Millennium Parcel Express.' A 10 bogies (parcel units) carrier with maximum 230 tonnes capacity, the Millennium Parcel Express still holds the position of changing the face of India's transport industry. A commendable feat indeed that is only achieved through the dedication that PRD Logistics is famed for! IT-enabled Rail Transport Services for Maximum Efficiency. A progression of our vision of providing the operational efficiency at every step to our discerning clientele has manifested in our interests in IT. With our advanced IT framework we are able to provide better services and enhance customer convenience at every stage of consignment transit. Our 24×7 and 360 degrees monitoring system allows us to exceed your expectations and provide you value-added service that PRD Logistics is synonymous with. For you, greater transparency and enhanced efficiency are a plus that you get with PRD Logistics. For us, IT is a way of life! Advanced system for online tracking of orders' status, SMS updates of order status for customers' convenience, Regular Email updates that connect customers and company, PRD Logistics Rail Transport – Chugging Ahead with Reliability Offering personalized services encompasses our sentiments of valuing the consignments entrusted to us. Whether you are a private investor or a government organization, we understand that the goods mean a lot to you. Extending your hard work and sincerity, we contribute our operational and management efficiency at every step to make rail transport logistics a smooth and easy task that is performed with utmost professionalism supervised by a team of industry experts. With PRD Logistics you can be rest assured about your shipment reaching the desired destination within a stipulated time frame since we have multimodal or combined transport logistics. So we trans-infrastructure your consignment under at least two different means of transport thus valuing your time commitment whilst maintaining the efficiency of transit operations. Bulk cargo express distribution at affordable rates, Cost-effective alternative to road transport that accommodates every budget, Safety of even the most fragile goods from transit to delivery, Multimodal connectivity with rail and road for greater efficiency. Round-the-clock service level monitoring system for high level of performance for customer delight, Tamper-proof bogies that are duly locked and sealed enhancing safety and care for your goods,
It is a part of the multi modal network of express distribution services, PRD Logistics provides cargo management services to companies who need cost effective bulk cargo transportation on the basis of Full Truck or Container Load and Half Truck Load. PRD Logistics has a tie-up with Indian Railways for transporting goods through parcel trains Running on an average of 45 parcel train services every month in different lanes / segments which is emerging as a strong alternative to road transportation , providing safety to customers shipments with cost effective & better service quality while transportation.